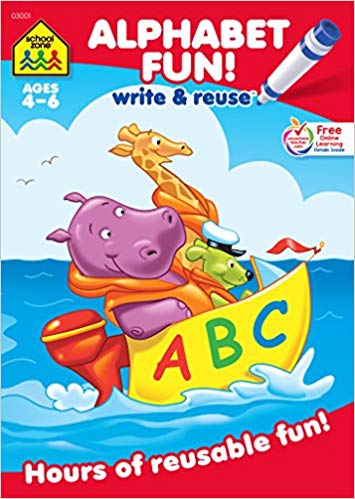 Write & Reuse-Alphabet Fun! Ages 4-6
AMAZING - The alphabet workbook for kids is packed with hours of reusable exercises that will keep your child thinking! These proven activities will help prepare your child for success by teaching puzzles, games, letters and much more! The activity workbook is intended for preschool and kindergarten, kids ages 4 to 6. This colorful kids workbook provides a fun-filled introduction to the alphabet and beginning phonics. The eye-catching, lessons focus on printing letters, identifying beginning and ending sounds, reviewing alphabetical order, and more! For best results, we recommend dry erase markers that are made for use by children.

WRITE and REUSE: With a dry erase marker in hand, children can enjoy tracing, matching, and ordering. Other exercises build recognition as well as the fundamentals of handwriting. Give your child this exciting new way to learn and practice. The erasable pages include the proper starting points for each stroke, plus playful illustrations and entertaining activities to make it fun! This is a reusable workbook kids are sure to enjoy!
Publisher: Wiz Kids
SKU: 076645030016