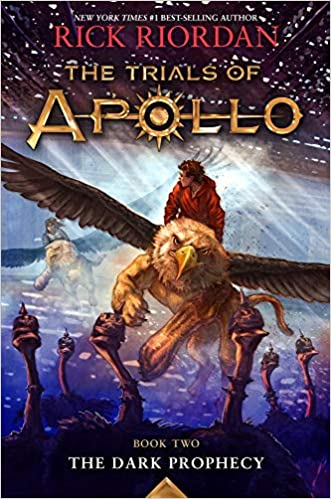 The Trials of Apollo #02 - The Dark Prophecy
by Riordan, Rick
Book Two of Rick Riordan's uproarious Trials of Apollo series, now in paperback.
Zeus has punished his son Apollo--god of the sun, music, archery, poetry, and more--by casting him down to earth in the form of a gawky, acne-covered sixteen-year-old mortal named Lester.
The only way Apollo can reclaim his rightful place on Mount Olympus is by restoring several Oracles that have gone dark. What is affecting the Oracles, and how can Apollo/Lester do anything about them without his powers?
After experiencing a series of dangerous--and frankly, humiliating--trials at Camp Half-Blood, Lester must now leave the relative safety of the demigod training ground and embark on a hair-raising journey across North America.
Somewhere in the American Midwest, he and his companions must find the most dangerous Oracle from ancient times: a haunted cave that may hold answers for Apollo in his quest to become a god again--if it doesn't kill him or drive him insane first.
This paperback includes the first chapter of The Trials of Apollo Book 3: THE BURNING MAZE, plus the first chapters of two Rick Riordan Presents novels.
Number of Pages: 464
Lexile Level: 700L
Publisher: Wiz Kids
SKU: 9781484780640