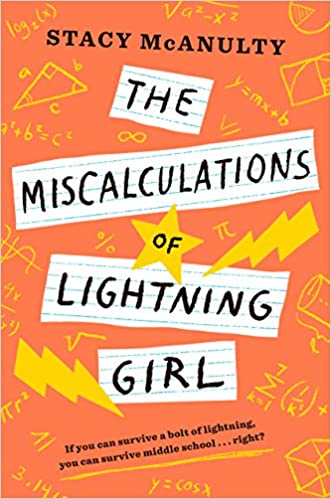 The Miscalculations of Lightning Girl
A lightning strike gave her a super power...but even a super genius can't solve the problem of middle school. This smart and funny novel is perfect for fans of The Fourteenth Goldfish, Rain Reign, and Counting by Sevens.

Lucy Callahan's life was changed forever when she was struck by lightning. She doesn't remember it, but the zap gave her genius-level math skills, and she's been homeschooled ever since. Now, at 12 years old, she's technically ready for college. She just has to pass 1 more test--middle school!

Lucy's grandma insists: Go to middle school for 1 year. Make 1 friend. Join 1 activity. And read 1 book (that's not a math textbook!). Lucy's not sure what a girl who does calculus homework for fun can possibly learn in 7th grade. She has everything she needs at home, where nobody can make fun of her rigid routines or her superpowered brain. The equation of Lucy's life has already been solved. Unless there's been a miscalculation?

A celebration of friendship, Stacy McAnulty's smart and thoughtful middle-grade debut reminds us all to get out of our comfort zones and embrace what makes us different.

Publisher: Wiz Kids
SKU: 9781524767600