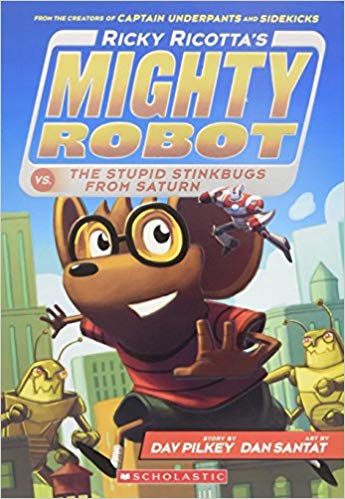 Ricky Ricotta #06 - Mighty Robot vs. the Stupid Stinkbugs from Saturn
by Pilkey, Dav
Ricky Ricotta and his Mighty Robot are in another stinky situation!


Ricky's family is headed to Cousin Lucy's house for lunch -- how boring! Ricky and his Robot are hoping to have a little fun with Lucy's pet Jurassic Jackrabbits, but when they get there, Lucy makes them play princess with her instead! What could be worse?

An invasion of Stupid Stinkbugs from Saturn, that's what! Smelly Sergeant Stinkbug has arrived on Earth with a plan to kidnap its ruler, and Princess Lucy fits the bill. Now it's up to Ricky and his Mighty Robot to plug their noses and send those stinkers back into space!
Number of Pages: 128
Lexile Level: 590L
Publisher: Wiz Kids
SKU: 9780545630146