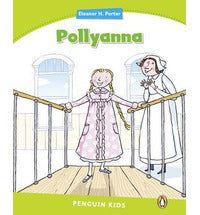 Orphan Pollyanna Whittier goes to live with her cold, unhappy Aunt Polly. She plays the glad game - it helps her find things to be glad about. Before long, Pollyanna is helping people in the town play the glad game, and they feel happier. Then, one day, a terrible accident happens! Can it stop Pollyanna's smile?
Pearson English Kids Readers bring the joy of reading to young learners of English. Children will love discovering the range stories and topics in this series - adventures, fairy tales, popular characters, the world around us.
Aligned to the Global Scale of English and Common European Framework.
Number of Pages: 24
Format: Soft Cover
Publisher: Pearson Learning
SKU: 9781408288405