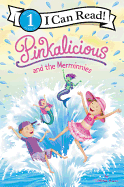 Pinkalicious and the Merminnies ( I Can Read Level 1 )
Pinkalicious and her friends have a mermazing time in this Level One I Can Read adventure that celebrates the power of friendship.
Pinkalicious likes her new friend Splash the merminnie, even though he is a show-off. When Splash's flashy tricks get him in trouble, it's up to Pinkalicious and her friends to save him!
Pinkalicious and the Merminnies is a Level One I Can Read, which means it's perfect for children learning to sound out words and sentences.
Publisher: HarperCollins
SKU: 9780062840448