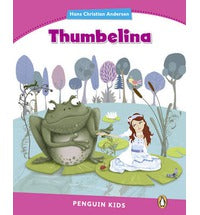 Thumbelina is a very small girl. She sleeps in a shell next to the window. One night, an ugly toad takes her. She is scared, she wants to go home! She meets fish, insects and a bird ... Can she find a prince?
Pearson English Kids Readers bring the joy of reading to young learners of English. Children will love discovering the range stories and topics in this series - adventures, fairy tales, popular characters, the world around us.
Aligned to the Global Scale of English and Common European Framework.
Number of Pages: 24
Format: Soft Cover
Publisher: Pearson Learning
SKU: 9781408288306