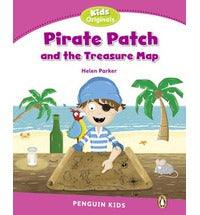 Young Pirate Patch finds a treasure map in a bottle in the ocean. Patch and his friends read the map and look for treasure - but bad Captain Blackbeard is following them, and sharks are near their boat! Can they find the treasure?
Pearson English Kids Readers bring the joy of reading to young learners of English. Children will love discovering the range stories and topics in this series - adventures, fairy tales, popular characters, the world around us.
Aligned to the Global Scale of English and Common European Framework.
Number of Pages: 24
Format: Soft Cover
Publisher: Pearson Learning
SKU: 9781408288290