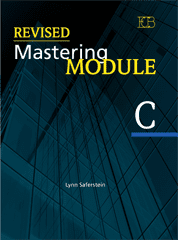 ECB - Revised Mastering Module C
Revised Mastering Modules A and C, C, and C and E are based on the popular Mastering Modules series. The Revised Mastering Modules series offers a thorough guide, with test-taking strategies, which reflect the recent changes in the A and C Bagrut modules:

Module A now has one longer reading passage and one longer listening text.
Module C now has a shorter reading passage and a new writing component.
Publisher: ECB
SKU: 9789653687165