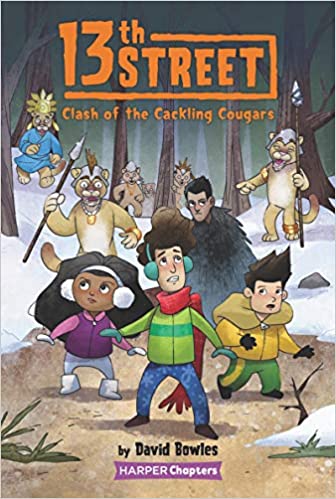 13th Street #03: Clash of the Cackling Cougars
by Bowles, David
A silly and spooky new highly illustrated series that's perfect for fans of Eerie Elementary and Notebooks of Doom, featuring art on every page and fun activities at the end of each book!
Ivan, Malia, and Dante are excited about their ski trip. There's no chance they'll stumble onto 13th Street in the mountains, right? WRONG! After being sucked through a portal, the cousins come face-to-face with joke-telling cougars that are more dangerous than they seem. How will the kids get out of trouble this time?
Each story in this hilarious and scary new series from award-winning author David Bowles is designed to set independent readers up for success—with short, fast-paced chapters, art on every page, and progress bars at the end of each chapter!
Number of Pages: 96
Publisher: Harper Collins
SKU: 9780062947857