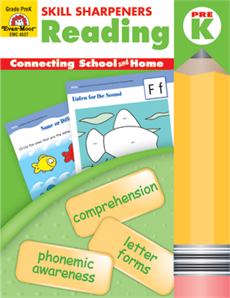 Skill Sharpeners Reading PreK
Skill Sharpeners Reading, PreK contains 21 units, each of which introduces a consonant letter. Each unit contains a cut-and-paste activity that introduces a consonant sound and three activity pages that reinforce reading readiness skills. There is one "Test Your Skills" assessment page for every four consonants introduced.
Reading readiness skills practiced include the following:
Phonemic awareness
Vocabulary
Fluency
Comprehension
Visual discrimination
 Children also develop their fine motor skills by completing the fun activities.
Examples of the types of activities are:
Listen for the Sound
Rhyming
Trace and Match
Same or Different?
Cut and Paste
Dot-to-Dot
What Will Happen Next?
Preview Table of Contents + Work Unit
Series: Skill Sharpeners
Number of Pages: 144
Publisher: Evan-Moor Educational Publishing
SKU: 9781596730359