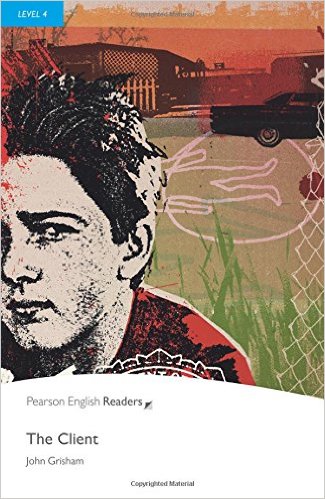 PER L4: The Client ( Pearson English Graded Readers )
by Grisham, John
In a weedy lot on the outskirts of Memphis, two boys watch a shiny Lincoln pull up to the curb...Eleven-year-old Mark Sway and his younger brother were sharing a forbidden cigarette when a chance encounter with a suicidal lawyer left Mark knowing a bloody and explosive secret: the whereabouts of the most sought-after dead body in America. Now Mark is caught between a legal system gone mad and a mob killer desperate to cover up his crime. And his only ally is a woman named Reggie Love, who has been a lawyer for all of four years. Prosecutors are willing to break all the rules to make Mark talk. The mob will stop at nothing to keep him quiet. And Reggie will do anything to protect her client -- even take a last, desperate gamble that could win Mark his freedom... or cost them both their lives.
Graded Readers. Well-written stories entertain us, make us think, and keep our interest page after page. Pearson English Readers offer teenage and adult learners a huge range of titles, all featuring carefully graded language to make them accessible to learners of all abilities.
 Through the imagination of some of the world's greatest authors, the English language comes to life in pages of our Readers. Students have the pleasure and satisfaction of reading these stories in English, and at the same time develop a broader vocabulary, greater comprehension and reading fluency, improved grammar, and greater confidence and ability to express themselves.
Publisher: Pearson Learning
SKU: 9781405882095