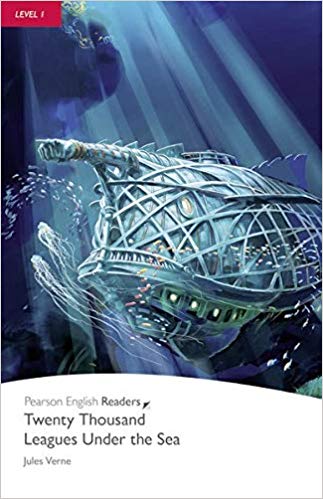 PER L1: 20,000 Leagues Under the Sea (Pearson English Readers)
by Jules Verne
Classic / British English This is the story of Captain Nemo and his submarine, the Nautilus. One day, Nemo finds three men in the sea. For months the men live on the Nautilus. They find a town on the sea floor, beautiful coasts and a lot of gold. But they want to go home. Can they escape from Nemo's submarine?
Graded Readers. Well-written stories entertain us, make us think, and keep our interest page after page. Pearson English Readers offer teenage and adult learners a huge range of titles, all featuring carefully graded language to make them accessible to learners of all abilities.
 Through the imagination of some of the world's greatest authors, the English language comes to life in pages of our Readers. Students have the pleasure and satisfaction of reading these stories in English, and at the same time develop a broader vocabulary, greater comprehension and reading fluency, improved grammar, and greater confidence and ability to express themselves.
Format: Soft Cover
Publisher: Pearson Learning
SKU: 9781405842761