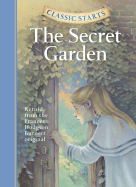 Classic Starts-The Secret Garden (Hardcover)
by Burnett, Frances Hodgson Abridged by Dubose, Martha Hailey and Hailey, Martha
The discovery of a neglected garden transforms the life of a sullen and unloved little girl-and everyone around her, too. When the newly orphaned Mary Lennox leaves her native India and arrives at her uncle's mansion in Yorkshire, everything seems strange to her. Then Mary hears of a mysterious garden where no one has set foot in 10 years. With the help of some new friends, she plans to uncover its secrets...and make it blossom once again.
Number of Pages: 160
Publisher: Sterling Publishing Co., Inc.
SKU: 9781402713194