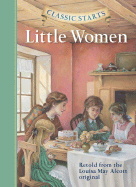 Classic Starts-Little Women (Hardcover)
by Alcott, Louisa May Abridged by McFadden, Deanna
"Louisa May Alcott's classic novel, set during the Civil War, has always captivated even the most reluctant readers. Little girls, especially, love following the adventures of the four March sisters--Meg, Beth, Amy, and most of all, the tomboy Jo--as they experience the joys and disappointments, tragedies and triumphs, of growing up. This simpler version captures all the charm and warmth of the original.
Number of Pages: 160
Publisher: Sterling Publishing Co., Inc.
SKU: 9781402712364